Opatija
Town of Opatija, 13 km in the west of Rijeka, European capital of culture 2020, is situated in the Kvarner bay, in a sheltered position at the foot of the mountain Učka. Opatija, a charming coastal town with a rich history and culture, has many fantastic locations, impressive monuments, well-manicured parks and magnificent villas that are waiting to be discovered.
Opatija (in German and Italian Abbazia) got its name after the Benedictine abbey situated in the center of Opatija. The town's modern history began in the middle of the 19th century, when Villa Angiolina was built. At that time many celebrities from metropolises of Zagreb, Vienna, and Budapest came to spend time at "Angiolina" and in Opatija. Opatija became a fashionable destination for the Austrian imperial family and Austrian nobility. Soon the luxury hotels and grand belle époque residences and villas were built. The first luxury hotel – Hotel "Quarnero" (today "Grand Hotel Kvarner") was built in 1884. The hotel Kronprinzessin Stephanie was opened in 1885. Opatija's first guide was published in Vienna in 1883 with the title Abbazia, Idylle von der Adria.
Kvarner bay has been chosen by Lonely Planet in the top 10 best regions to travel in 2020.
For more info please visit https://www.liburnia.hr
Remisens Premium Hotel Ambasador (5*)
Remisens Premium Hotel Ambasador (5*) in Opatija, Croatia, offers traditional elegance and service excellence for a truly unforgettable experience. A five-star premium hotel in Opatija, the Ambasador will spoil you with its superior amenities. Remisens Premium Hotel Ambasador has a central location near Opatija's city center, but still maintains its privacy. It is situated above the private beach and Lungomare, a 12 kilometer promenade on the coast of the Adriatic Sea.
The Management of the Hotel provides special prices for all conference participants.
Please download the accommodation registration form and send it on the e-mail:
This email address is being protected from spambots. You need JavaScript enabled to view it.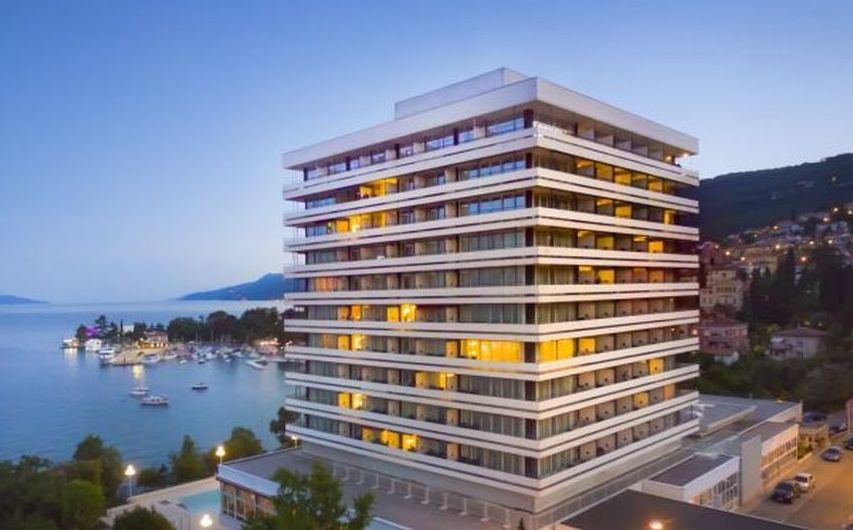 For more info please visit:
Arrival to Opatija
The nearest airports:
190 km from Opatija, approx. 2 h by car.
100 km from Opatija, approx. 1 h by car.
Ronchi dei Legionari Airport (TRS), Trieste, Italy
110 km from Opatija, approx. 1 h by car.
Ljubljana Airport (LJU), Slovenia
130 km from Opatija, approx 1.5 h by car.
Marco Polo Airport (VCE), Venice, Italy
250 km from Opatija, approx. 2.5 h by car.
The nearest train stations:
Matulji, 5 km from Opatija, +385 (0)51 274 102
Rijeka, 15 km from Opatija, +385 (0)51 211 111
Zagreb, 200 km from Opatija, +385(0)60 333 444
More information on train lines and about travelling within Croatia: http://www.udaljenosti.com/vozni-red-vlakova/